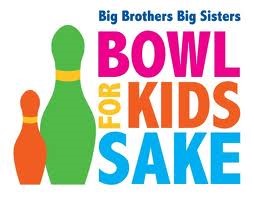 Bowl For Kids' Sake is Big Brothers Big Sisters' signature fundraiser. Each year half a million people across the country come together to have fun and raise money to support Big Brothers Big Sisters as we change how children grow up! Bowl For Kids' Sake is the perfect way for individuals to make an impact on our community- it only takes a little bit of effort to raise the money that is vital to our program's success.
This is your one-stop-shop for everything you'll need to have the best bowling fundraiser EVER!
NEW this year - Battle of the Decades….so break out your best attire for your favorite decade and show it off the day of the event...dress to impress because prizes will be awarded!
Here's How It Works:
You choose one of three locations, dates, & bowling venue. Typically, groups bowl for three hours
Advertise & encourage participation amongst your coworkers and friends
Recruit and form five-member teams (including yourself), and each member collects donations of at least $200 each, or $1,000 per team
Locations:

3/10/2018, 1 to 4 p.m. at Golden Lanes, 108 Balcome Blvd, Simpsonville
3/17/2018, 1 to 4 p.m. at Paradise Lanes, 469 E. Blackstock Rd, Spartanburg
5/5/2018, 1 to 4 p.m. at Boulevard Lanes, 4140 Clemson Blvd, Anderson
Fundraising is easy!
Everyone registers for the event on your own peer-to-peer fundraising platform
Employees can create their own fundraising page and ask family & friends to support their fundraising efforts
Big Brothers Big Sisters of the Upstate will:
Provide Lunch
Set-up your peer-to-peer fundraising site
Track each team and individual's fundraising progress
Ready to form your team? Contact Lamont Sullivan at 864.242.0676 or SullivanL@bbbupstate.com
Donate:
Find a Participant or Team:
Donor Honor Roll
Polydeck - Sabrina Blackwell
Publix Charities
Larry Feniger
Resurgent Capital
GCSD